Americas Aerospace Quality Group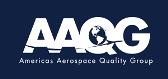 The AAQG is a cooperative organization within the aerospace industry in the Americas (including North, Central and South Americas). Its processes are established in a set of agreed, documented, operational procedures. Its purpose is to establish and maintain a dynamic cooperation based on trust between Americas aerospace companies on initiatives to make significant improvements in quality performance and reductions in cost throughout the value stream.

Triumph Group is a proud voting member of the AAQG.


Nadcap

Nadcap is the leading worldwide cooperative program of major companies designed to manage a cost-effective consensus approach to special processes & products and provide continual improvement within the aerospace & automotive industries.

The Nadcap vision is to develop a world-class special processor supply-base for the global aerospace industry using a cost-effective industry managed accreditation process.

Triumph Group is a prime subscriber to the Nadcap cooperative.


Aerospace Industries Association

The Aerospace Industries Association represents the nation's leading manufacturers and suppliers of civil, military, and business aircraft, helicopters, unmanned aircraft systems, space systems, aircraft engines, missiles, materiel and related components, equipment, services and information technology.

Triumph Group is a voting member of the AIA Quality Assurance Council.